This promotion has ended and will not be younger to donate money to.
The film is subtitled in Swedish and English. Press the "CC" button in the video player or "Settings" and select the language you want as subtitle.
Dogs that die while waiting for veterinary care!
Since the acquisition in 2016/2017, DogRescue's own private shelter, together with organizations in Romania and Norway, has grown as more stray dogs have been rescued from state death fences. But now another problem has arisen: veterinary care is not enough.
We at the DogRescue Association report on dogs that die while waiting for time at surrounding veterinary clinics - and how the distance from the fence through the busy and poor road network, means that acutely ill dogs die in the car on the way to help. This fundraising campaign is now underway to raise funds as the opportunity for a veterinary clinic is now available to save more lives that would otherwise result in a safe death.
Rudi Hofmann, chief veterinarian of DogRescue Romania, informs:"In normal cases when a dog has been captured, it is usually sent directly to a veterinary clinic to vaccinate it and prepare it for life in a dog fence where many other dogs are found and many diseases can be ravaged. Now we are forced to do the opposite! ".
Jari Vaaranmaa, Board Member of DogRescue Sweden, says: "We need our own veterinary clinic and it will be soon. The need is great. We have our own fence with many dogs that need continuous supervision and care. "
Christel Malmberg, Chairman of DogRescue Sweden: "Many times our followers have seen how we went into state dog kennels and rescued upwards of 30-40 dogs at a time that would otherwise have been killed! As we all know, these dogs do not feel well. They are thin and hungry. They have injuries that need to be treated. If we have our own clinic, we can take care of these injuries directly. We can not do that today! Today we have to wait. Wait for other clinics to have time for us.
And that doesn't always work. "
The distance from DogRescue's shelter to surrounding veterinary clinics is also long. It can take between 1,5 - 2 hours to get to a veterinary clinic. It is too long for an acutely ill dog. With the help of dogs from Dog Rescue Norway, you now have the chance to take over a complete veterinary clinic just 15 minutes away from the fence - which means that more lives can be saved and the suffering lessened. The transport distance to the clinic is reduced by 1 - 2 hours easy route, depending on the traffic in Bucharest.
- "There is a difference between life and death for those dogs that need immediate care", says Jari Vaaranmaa.
The clinic that the association now has the opportunity to acquire is fully equipped, fully functional and fully staffed with staff and also returning customers. In a couple of months, the owner of the clinic, a specialist veterinarian in Romania, will sell the company to the highest bidder as he himself will continue entirely within his specialist area instead of running a general veterinary clinic that takes place today. DogRescue Sweden has now negotiated and also had the opportunity to take over the entire business for a fixed amount, lower than the expected starting price. The requirement is that the purchase is completed before the public sale starts in the spring of 2018. It is therefore important and quite urgent to collect as much money as possible to succeed in completing the purchase. After the purchase, the association can start working on day one. You who support the project with any amount, will be able to follow the daily work at the clinic.
Rudi Hofmann closes: "With our own clinic, we can save more lives and we are then not dependent on others having time and opportunity for our dogs, we can and we dare to save more!"
1. Why Romania?
Romania is the country with the most stray dogs in all of Europe and where the government allows EU-funded grants that exist to stop the problem, go straight into the pocket. Romania is also a country known for its bribery scandals - from health care all the way up to high-ranking government officials and top politicians. In 2013, the government introduced the "law of death" - a law where you as a city have the right to catch dogs and put them in a municipal fence - usually without food and water and where care is non-existent - to later kill the dog after a couple of weeks. Having the right to kill these animals and the way it is done is inhumane and painful with great suffering for the dogs before death frees them. This means that grassroots organizations like DogRescue, work hard, every day, to protect those who cannot speak those who do not have their own voice and who suffer severely in a country like this. Today, DogRescue helps save thousands of dogs from death each year. Some dogs undergo an adoption program - and are then adopted to several European countries through other organizations. DogRescue also mediates dogs home to Sweden where expectant adopters meet up. The dog finally gets its own home - but only after a solid test and action program - and with the necessary agreements and insurance required. As some of these dogs may have a traumatic background, the association places high demands on the adopter and has a lifelong follow-up for both dog and owner where you can be helpful throughout the dog's life in Sweden. Without all the zealots in the association and a great commitment, thousands of dogs would have met a painful and uncertain death every year.
2. Why is the clinic sold?
The clinic is sold because a specialist veterinarian in Romania has chosen to continue entirely in its specialist field, animal neurology, instead of running a general veterinary clinic that is currently taking place. For several years, this specialist veterinarian has built up a fully functioning clinic that today has good reputation, complete equipment, staff and repeat customers. DogRescue Sweden has now been given the opportunity to negotiate and to take over the entire business for a fixed amount, lower than the expected starting price. The requirement is that the purchase is completed before the public sale starts during spring 2018.
3. Why does DogRescue need its own clinic?
Since the association was founded, they have been dependent on getting help and working with other veterinary clinics. When the association year 2016 succeeded in the impossible - to buy their own piece of land and create their own sanctuary for the street dogs in Romania, so as not to depend on others and be able to set their own standard, far higher than the law requires on treatment and testing. of animals, they have grown magnificently. More and more animals are coming to the fence and all animals are in need of veterinary care. The waiting times at other clinics are too long, the costs high and the distance from one's own fence to the clinics too long. A private clinic is needed to save more lives.
The clinic costs a total of 500 000 SEK to acquire.
4. How can I best help?
It is possible to donate internationally via regular bank transfer, credit card, Paypal or Swish (only within Sweden). You can donate from any country in the world. All money raised goes to rescue more dogs from death and continue to develop a veterinary clinic in Romania with Swedish standards. After donating an optional grant, you are welcome to share this information with your friends via Social Media. Then you further increase the chance that we will succeed.
5. What happens after the purchase?
Right after the purchase, DogRescue can start working day one. Since there are both staff and repeat customers today, the business will continue just as before and that all dogs that DogRescue itself has in its own fence and in the future will save, receive first priority and help immediately without waiting times. We can and dare to receive more dogs and save more lives.
Help us help!
One cannot help everyone - but everyone can help someone. Please share the content with your friends on social media and help us spread this campaign. Use the split button below. Thanks.
[addtoany]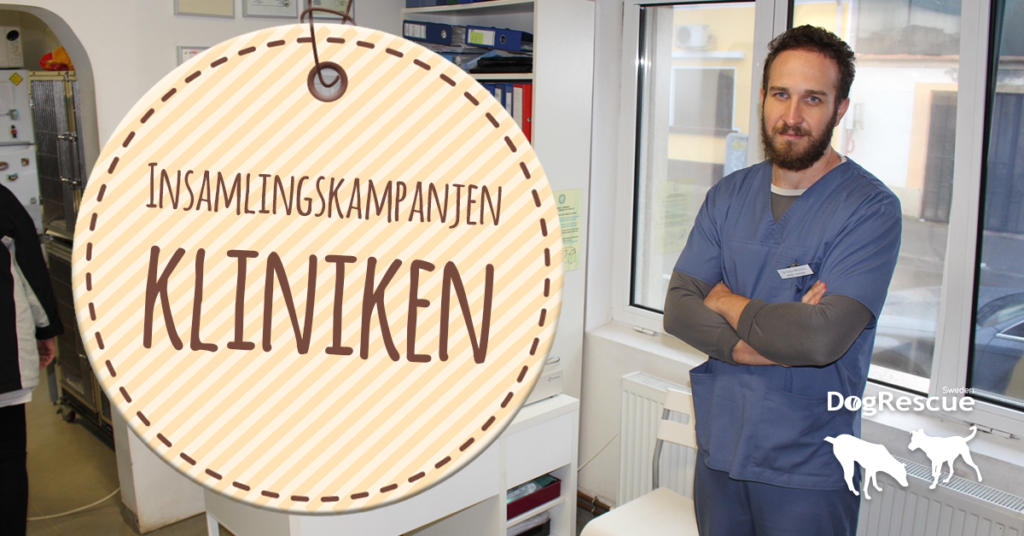 For press questions, please refer to the association's office: info@dogrescue.se or telephone: 010 - 101 41 80
Below are editorial photos from the association that can be downloaded for free and used by journalists, bloggers and more. In case of problems with downloading and / or need more photos taken by a professional photographer down in Romania, contact the Office and these will be sent on request.