We have chosen to focus our work primarily on Romania - as it is the country in Europe with the highest number of street dogs.
In Romania, there are today about 2,5 million homeless dogs and they are only getting more and more. In the fall of 2013, a law was introduced, which we call "The Law of Death", which means that the municipalities today catch the dogs and throw them into the death fence - a municipal fence where they let them starve for a number of weeks and then kill them in a terribly painful way . All for the sake of money. You get money from the EU and the Romanian government - who really have to go to food, castrate care and other things but instead go straight into the pockets of authorities and mayors through various companies. Corruption in the country is high, and it is reported occasionally on TV about how high-ranking politicians are forced to resign over and over because of this. "The fence of death" is found in every municipality and usually several fences in the same municipality. The only way to reduce the number of dogs is to castrate on the spot - and that's where DogRescue comes in.
How the law of death came about
DogRescue works from Sweden where they have their headquarters but are also active in Romania where the association runs a private dog fence and a veterinary clinic. The association has chosen to establish itself in Romania following the law that was initiated in 2013 for the declaration of a four-year-old boy killed by a street dog - which later turned out to be false accusations to enforce a systematic law clean out dogs. The amended law made it possible to catch and kill dogs which was funded by the Romanian authorities and so-called public shelters (municipal dog fencing) were established on a large scale and mass killing of dogs started in earnest. One of several well-known campaigns by the media is when the association managed to save 500 street dogs from death within 30 days as also certain media attention. Another campaign that has been noticed is "Walk For The Strays" which has happened in some 60 Swedish cities for several years. Through its ten-year history, DogRescue has saved thousands of dogs from death and in 2019 has the capacity to receive and care for around 200 dogs at a time in its own shelter.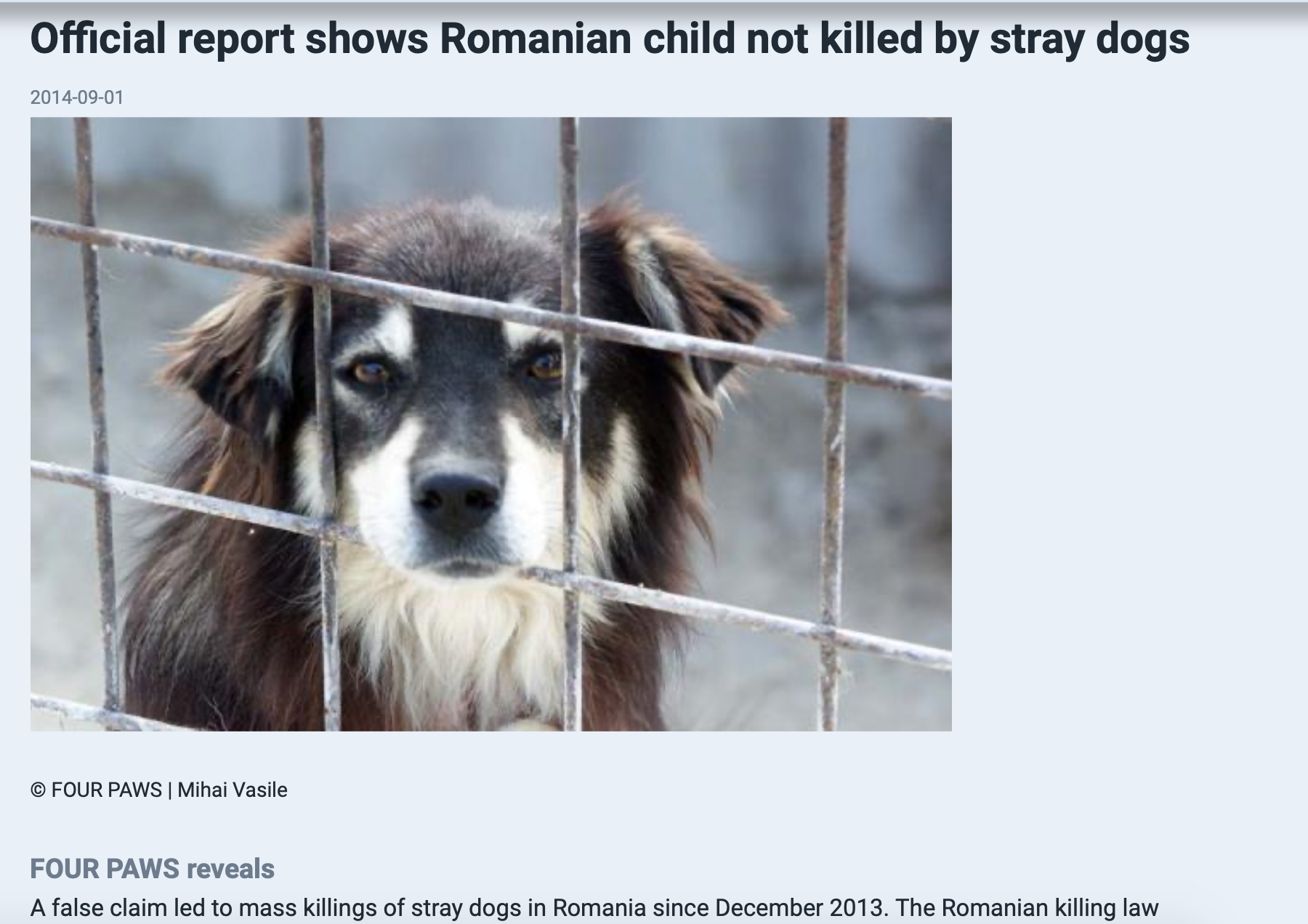 False news so-called "Fake News" by the government led to mass killing of homeless dogs in Romania. An official document from the Prosecutor's Office in Romania's Supreme Court shows after the law on mass killing of dogs had a breakthrough - that the child was killed by one of seven watchdogs in a private area. The document states that "… The minors were on a private property guarded by seven watchdogs owned by the company…" and that "the defendant failed to take appropriate action to prevent the dog attack against the boy by closing the area to keep his dogs exclusively on his property, in in accordance with the legislation on dog ownership, including dangerous and aggressive dogs " Furthermore, the prosecutor's document states that "Although some of the dogs that were caught from the field located on Tuzla Street no. 50, since 2009, was included in the official register of the Sector 2 veterinary center in the municipal council for Sector 2 in Bucharest, after being castrated, earmarked and microchipped. These dogs were not wild dogs in September 2013. The owner of the dogs was the defendant, a company. " According to statements by Răzvan Băncescu, head of the Bucharest Animal Protection Authority (ASPA), at a press conference, he acknowledged that tens of thousands of dogs shortly after the law came into being in 2014 have already been killed. Various animal welfare organizations estimate that hundreds of thousands of dogs have been killed, while on-site organizations talk about over one million dogs being killed. The law is still active today and there are no plans to change it. You can read parts of report here developed by a sister organization Four Paws who also work with street dogs.
Mass protests in Romania against corruption
One of the main reasons why mass killing of dogs continues today, many years later, and that the law does not change, is that there is great interest in pursuing and killing dogs where today you can earn around SEK 2500 per dog you catch in and kill. In a country like Romania where a low wage earns only a few thousand dollars a month's salary, this is attractive. And in a country with a heavy history where corruption is a daily occurrence, people do not care about dogs, but their own problems. From TV News News Morning from 4-2017-02: Elisabet Frerot and Stefan Borg on massive demonstrations in Romania's capital Bucharest - now the people demand the government's departure. See also this documentary on TV4 where the director says that corruption available at all levels in Romania and that it affects people's everyday lives. Also hear the report from Swedish Radio which tells us that Romania is one of Europe's most corrupt countries.